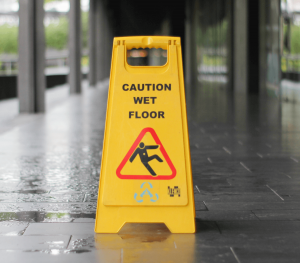 Florida Slip & Fall Lawyer
If you or a loved one have been injured in a Florida slip and fall accident, you may be entitled to compensation for such losses as medical bills and lost wages. Collecting what you're owed will be much easier if you consult with a Florida personal injury law firm right away. Without legal representation, you may struggle to negotiate with an insurance company that's ready to defend itself. That's why our Florida slip and fall lawyers at LJ Law Group are ready to offer the professional guidance and assistance you need in these circumstances.
What You Need to Know about Florida Slip & Fall Accidents
Sometimes a Florida slip and fall accident will only leave you with a little bit of minor bruising. Unfortunately, sometimes the consequences can be more severe. In fact, CDC researchers have found that approximately one in five falling accidents will result in the victim sustaining a serious injury.
Such an injury will leave you with medical bills. You shouldn't be responsible for paying them yourself if your slip and fall accident was caused by someone else's negligence.
Additionally, depending on how severe your injuries are, they might also prevent you from working, whether for a short period of time, or permanently. You would also deserve compensation for your lost wages if this were the case. On top of that, if your injuries have limited your mobility to such an extent that your overall quality of life has diminished permanently, you could be entitled to compensation accordingly.
This is why you should consult with a slip and fall law firm in Florida. Insurance companies will try to convince you to accept less compensation than you deserve. They may even say your claim against them is invalid altogether.
By hiring a lawyer from LJ Law Group, your claim will be in the hands of Florida slip and fall attorneys who know how to establish that another party's negligence caused your accident. We'll also properly calculate how much compensation you're owed.
Premises Liability and Florida Slip and Fall Cases
Florida's premises liability laws require property owners to address hazards that could put you at risk of a slip and fall accident.
Such hazards may include (but are not necessarily limited to):
Wet floors
Uneven floors
Poor outdoor lighting (which may prevent you from seeing a tripping hazard)
Unmarked drop-offs
Long cords
Those are just a few examples. However, injuring yourself due to one of these hazards doesn't guarantee a payout. You need to prove negligence. For example, if you slipped on a wet floor that was recently cleaned, you need to prove those responsible for putting out a sign letting you know the floor was wet and failed to do so. Our Florida slip and fall lawyers can help with these sometimes complicated processes.
Why LJ Law Group?
You need to consider a Florida personal injury firm's track record when seeking representation. You can't simply take a lawyer's word for it when they claim they'll offer aggressive representation.
Fortunately, when you choose LJ Law Group, you don't have to. We can cite past results and offer testimonials from former clients to help you thoroughly understand why we're qualified to handle your Florida slip and fall case. Get started today by scheduling a free consultation.
Get your Free Case Evaluation