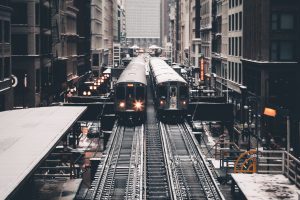 Florida Train Accident Lawyer
Train companies qualify as "common carriers" under the law. That means they have a duty to protect not only the safety of their passengers, but also the safety of pedestrians, drivers, and anyone else who may find themselves in harm's way if their vehicles are not operated or maintained properly.
You may unfortunately find yourself the victim of a Florida train accident if a responsible party neglects this duty. Because such an accident has the potential to leave you with severe injuries, it's crucial that you consult with a Florida train accident lawyer soon after. Our team at LJ Law Group will protect your rights moving forward.
Florida Train Accidents: Essential Information
You could be injured in a Florida train accident (whether you're a passenger or not) for many reasons. The following are just a few examples:
Collisions with other trains or vehicles
Accidents caused by improperly maintained tracks or equipment
Railroad crossing failure
Mechanical failures
Error or negligence on the part of the train conductor
Derailments
Don't underestimate how common these accidents may be. According to data from the Federal Railroad Administration, 11,693 train accidents occurred in the United States in 2019 alone. Nearly 900 of those accidents resulted in fatalities. Unfortunately, because trains are massive vehicles, even those who survive Florida train accidents often sustain injuries that can have lifelong consequences.
How a Florida Train Accident Law Firm Helps
You deserve compensation for such losses as medical bills and lost wages if you're ever involved in a Florida train accident. Our Florida personal injury lawyers will help you collect it.
While hiring a Florida personal injury law firm is a smart decision whenever you're injured through no fault of your own, it's particularly crucial in these instances. That's because determining who is liable after a train accident may be very complicated if you don't have the necessary expertise. Liable parties may include the train's owner and operator, the company that designed and/or manufactured it, those responsible for track and/or equipment maintenance, etc.
Our Florida train accident attorneys conduct thorough investigations to identify liable parties. This is key to seeking compensation from those genuinely responsible for providing it.
Because Florida is a comparative negligence state, they'll also defend you if a liable party claims your own negligence caused or at least contributed to the accident. Train companies have access to vast financial resources, and are willing to go to great lengths to defend themselves when injured victims seek compensation. Hiring a Florida personal injury law firm ensures you have access to similar resources.
Why Choose LJ Law Group?
Knowing you can trust your Florida train accident attorney is much easier when you know they've secured ideal results for clients like yourself in the past. That's why you should work with LJ Law Group. Along with our proven track record of success, we can cite numerous testimonials from former clients who were thrilled with the aggressive representation we offered. If you or a loved one has been injured or killed in a Florida train accident, start pursuing justice today by scheduling a free consultation.
Get your Free Case Evaluation