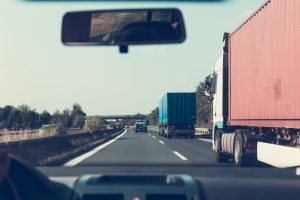 Florida Truck Accident Lawyer
Any accident involving a motor vehicle can have devastating consequences for those involved. However, trucking accidents can be particularly harmful. Thus, if you or a loved one are ever harmed in such an accident in Florida, you need to enlist the help of a Florida truck accident lawyer whose aggressive representation will help you secure the compensation to which you're entitled. That's the type of representation we pride ourselves on offering at LJ Law Group.
What You Need to Know about Florida Truck Accidents
Thousands of people in the United States lose their lives in avoidable truck accidents every single year. Victims who manage to survive such accidents are often still left with injuries that can have a permanent impact on their quality of life.
It's easy to understand why truck accidents can be so harmful. A large vehicle has the potential to cause significant damage in a collision. Additionally, because large trucks are typically more difficult to operate than smaller cars or motorcycles, inattentive or negligent driving can be more likely to result in an accident.
Unfortunately, it appears that many companies pressure their drivers to deliver all loads on schedule, even when unexpected factors make doing so impractical. This results in many truckers operating their vehicles in a sleep-deprived state, which scientists and doctors assert can mimic the effects of intoxication.
What to do After a Florida Truck Accident
In the immediate aftermath of a truck accident, you should get to safety, call the police, exchange contact information with all others involved in the accident, get the contact info and names of all witnesses, and see a doctor, even if you don't notice any signs of injury.
You should also schedule a consultation at a truck accident law firm in Florida sooner rather than later. Because Florida is a "no-fault" state, your insurance company is typically responsible for compensating you for losses resulting from an accident (such as medical expenses or lost wages), regardless of whose negligence caused the accident.
However, your insurer's goal is to pay out as little as possible. That's why you need to work with a Florida personal injury lawyer when filing a claim against them. At LJ Law Group, our Florida truck accident attorneys know how insurance companies operate in these circumstances, and will work hard to ensure you get the compensation you deserve.
It's also worth noting that you can sometimes pursue compensation from the negligent party after a Florida truck accident if your injuries meet certain criteria. Proving they do is much easier with the help of our Florida personal injury law firm.
Why Choose LJ Law Group?
Virtually any Florida truck accident lawyer you reach out to will promise to offer strong representation. At LJ Law Group, we don't just make empty promises. We cite proven results and testimonials from past clients to clearly illustrate why ours is the right Florida truck accident law firm for your needs. Contact us online today to schedule your free consultation.
Get your Free Case Evaluation