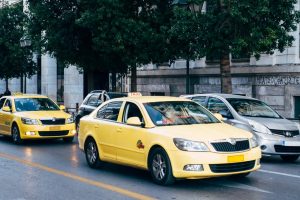 Florida Uber Accident Lawyer
Uber is theoretically very helpful when you want to get around Florida without driving your own vehicle. However, while you trust your Uber driver to be responsible behind the wheel, sometimes, they may neglect that responsibility. You could thus find yourself involved in a Florida Uber accident through no fault of your own one day.
You shouldn't have to absorb the cost of your medical bills, lost wages, and similar losses the accident caused if this ever happens. Protect your own rights and financial best interests by hiring a Florida Uber accident lawyer at LJ Law Group. At our Uber accident law firm in Florida, you'll find experienced attorneys qualified to offer the aggressive representation you deserve.
Essential Information about Florida Uber Accidents
It's important to understand the potential risk you may be taking when scheduling an Uber ride in Florida. According to drivers, the company doesn't offer any standard training. Drivers who request training must pay for it out of their own pocket.
This means many Uber drivers may not have the skills necessary to offer a truly safe ride. Additionally, under Florida law, Uber isn't held to the same liability standards as other similar transportation service providers.
None of this is meant to suggest that you're responsible for your own injuries if you're involved in a Florida Uber accident. It simply highlights why Uber accidents may happen, and why it's smart to consult with a personal injury lawyer in Florida if you're ever the victim of one.
Recovering Compensation for Losses After a Florida Uber Accident
Various parties may compensate you after you're involved in an Uber accident. Because Florida is a "no-fault" state, regardless of whose negligence caused the accident, your own insurance company will often provide some compensation. However, the compensation they will offer won't exceed your policy limits. There's also a good chance they'll try to lowball you to avoid paying out what you truly deserve.
You could also pursue compensation from either Uber's insurance company, or the insurance company of the individual driver, if you can prove their negligence caused the accident. Just remember that Uber is a large company that has the resources to defend itself against such claims. The driver's own insurer will also likely try to argue they're not responsible for providing compensation by claiming the accident occurred while the driver was operating the vehicle in a capacity that violated their policy terms.
These are all reasons to hire an LJ Law Group Florida Uber accident lawyer after your accident. You may be up against various parties that will strive to avoid paying you what you're entitled to. Collecting what you're owed will be much easier if you enlist the help of a legal expert.
Why Choose LJ Law Group?
There's no shortage of Florida Uber accident law firms claiming they can deliver results. Virtually all personal injury law firms in Florida want more clients. Luckily, when we at LJ Law Group promise we can offer the representation you deserve, you don't have to take our word for it. We'll happily share past results and testimonials from former happy clients to illustrate why choosing us to handle your case is a wise decision. To learn more, schedule a free consultation today.
Get your Free Case Evaluation