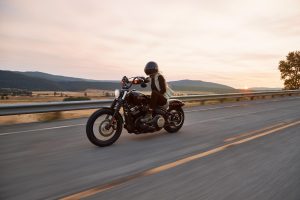 South Florida Motorcycle Accident Lawyer
Every year, according to the National Highway Traffic Safety Administration (NHTSA), South Florida leads the nation's number of motorcycle accidents and deaths. Motorcycle accidents can be a very traumatic experience that often lead to severe, debilitating, and in some cases, life-threatening injuries that can change your life. Not to mention, the financial, physical, and emotional hardships associated with a motorcycle accident can take a toll on you and your family.
It is common for police reports to blame the biker for a motorcycle accident. However, it is actually due to many factors, including dangerous roads, negligent drivers, and even debris on the road. Motorcyclists often bear the weight of the blame, when in reality, accidents are commonly caused by automobile drivers:
Failing to yield the right of way to a motorcycle
Cutting in front of motorcycles
Failing to check for motorcycle riders before switching lanes
Entering an intersection into the path of a motorcycle
Likewise, motorcycle accidents can also be the result of road hazards and defective motorcycle parts. These types of accidents mean that the accident claim needs to be handled differently.
If you or someone you know has been hurt in a motorcycle accident in Pompano Beach, you may be entitled to compensation for your injuries and damages. Working with a motorcycle accident attorney can help you fight for the compensation you deserve.
Anyone operating a motor vehicle in South Florida could be injured in an accident. However, motorcycle riders face a particularly significant risk of being injured because of their vulnerability. They, of course, don't have a large vehicle's frame protecting them during a collision.
If you have been hurt in a South Florida motorcycle accident, we at LJ Law Group can help. Working with our South Florida motorcycle accident lawyers will maximize your chances of securing the compensation to which you're entitled.
What You Need to Know Right Now about South Florida Motorcycle Accidents
Statistics prove that motorcycle riders in South Florida (and everywhere else) are more likely to be harmed in an accident than other drivers. According to data from the National Highway Traffic Safety Administration, in 2017, motorcycle riders were in fact 27 times more likely to be killed in motor vehicle accidents than drivers or passengers in cars or other vehicles.
Unfortunately, even if you survive a South Florida motorcycle accident, your injuries could be so severe that they permanently affect your quality of life. They may even leave you permanently disabled. At the very least, it's highly likely that you'll run up big medical bills in the aftermath of your accident. Your injuries might also prevent you from working while you recover. During the time you can't work, you might not collect a paycheck.
The Importance of Hiring a Qualified South Florida Motorcycle Accident Attorney
You deserve to be fully and fairly compensated for your losses resulting from a South Florida motorcycle accident. Because Florida uses the "no-fault" model, regardless of whose negligence (that is, carelessness) caused the accident, your own insurance company will be responsible for compensating you.
The insurance company's goal isn't to offer fair compensation. It wants to pay out as little as possible. If you work with its representative (often called an "adjuster") directly (without a lawyer), it will try to force lowball offers on you. It might even deny your claim altogether.
That's why you need to consult with a motorcycle accident firm in South Florida. The South Florida personal injury lawyers at LJ Law Group will investigate the facts, present your case in its best light, and negotiate on your behalf, helping you collect fair compensation.
However, your insurance company can compensate you only up to your policy limits. If that's not enough compensation to cover all your losses, you could seek to prove that your injuries meet certain criteria that, under Florida law, allow you to seek additional compensation from the party responsible for causing the accident. We'll help you establish that your injuries genuinely do meet those criteria, which will help you collect a bigger payout.
Why LJ Law Group?
When you need to hire a South Florida motorcycle accident attorney, you should protect yourself by seeking a professional with a proven track record. At LJ Law Group, we gladly discuss past successes, proving we have the qualifications necessary to help you secure an ideal outcome in your case. To learn more about how we can help after a South Florida motorcycle accident, schedule your free consultation today.
Get your Free Case Evaluation