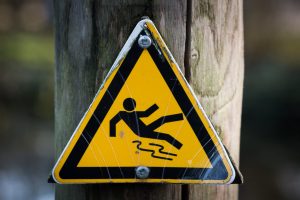 South Florida Premises Liability Lawyer
Slip and fall accidents are the most misunderstood types of personal injury claims. Due to embarrassment, confusion, and other factors, slip and fall victims often don't file claims and ultimately suffer for years after their accident.
A slip and fall accident occurs when a person slips, trips, or falls on another person's property due to poorly maintained areas. If you or someone you know has been involved in a slip and fall accident, realize you have the right to file a claim and fight for compensation for the injuries, medical bills, and other expenses related to the accident.
Working with an experienced law firm in slip and fall cases can make the difference between receiving the compensation you deserve or be left with thousands of dollars in expenses.
You shouldn't have to suffer because of someone else's negligence (that is, carelessness), but it's not uncommon for people to be injured on the property of another who failed to keep it clean and safe. Their mistake—even a small one—can end up causing you pain, emotional distress, permanently diminished mobility, lost wages, and other losses (even, occasionally, your life) and requiring weeks or months of medical treatment and healing.
If you've been hurt on someone else's property, and it wasn't your fault, you don't have to deal with all the pain, medical bills, and long-term effects without compensation. You have medical bills piling up and perhaps lost wages from missed work, exacerbating your problems. Before you know it, your family's financial future could be in danger. Using a trusted and experienced premises liability lawyer in South Florida will give you the best chance of recovering damages for your losses.
How and Where Can I Be Hurt?
A premises liability claim can arise from an accident on private property that's owned by anyone and that you're visiting for any reason. Here are some examples:
Retail and grocery stores: Accidents likely to happen at grocery stores or other retail establishments include slip and fall accidents caused by "transient liquids," such as dropped or spilled product and condensation from leaking coolers, or hazards such as poorly placed merchandise racks.
Restaurants, bars, and clubs: Common accidents in these venues include slip-and-fall accidents and incidents resulting from patrons being served too much alcohol or from insufficient security. In restaurants, cuts, burns, and scalds commonly result from serving-related accidents.
Parking lots: Parking lots are common sites of injuries resulting from uncleared snow and ice. Cracked and poorly maintained paving surfaces are also hazards.
Amusement parks: Injuries from ride operation, poorly trained operators, and food-borne illnesses are all common at amusement parks.
Gas stations: Gas stations are common sites of slip and fall accidents, not only inside convenience stores but also due to gas and oil on the lot in the pump area.
Private homes: Injuries from dog bites as well as slip-and-fall incidents and other hazards are common at people's homes.
Why Choose LJ Law Group?
When you have a premises liability claim because of an injury on someone else's property, the best thing you can do is work with a South Florida premises liability law firm. They will know how to build the strongest claim possible and present it in its best light at every stage of the process. They will be your advocate during complex settlement negotiations, and if your case must go to court, they will aggressively represent you. There is nothing to lose and everything to gain by reaching out to LJ Law Group today to have your case evaluated.
Get your Free Case Evaluation