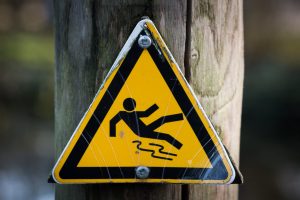 South Florida Slip & Fall Lawyer
Slip and fall accidents are the most misunderstood types of personal injury claims. Due to embarrassment, confusion, and other factors, slip and fall victims often don't file claims and ultimately suffer for years after their accident.
A slip and fall accident occurs when a person slips, trips, or falls on another person's property due to poorly maintained areas. If you or someone you know has been involved in a slip and fall accident, realize you have the right to file a claim and fight for compensation for the injuries, medical bills, and other expenses related to the accident.
Working with an experienced law firm in slip and fall cases can make the difference between receiving the compensation you deserve or be left with thousands of dollars in expenses.
Nobody goes out to run some errands or do a little shopping expecting to be seriously hurt in a preventable accident. Nevertheless, every day countless people in the South Florida area are hurt in simple slip and fall accidents. These accidents are unexpected and can have devastating effects on your health and finances, sometimes leaving you with permanent changes to your quality of life.
While many people consider certain activities to be more dangerous than others, driving a car, for example, the same is not generally said about restaurants, stores, or other business locations. These are places where you expect to be able to be present as a customer without being in harm's way. If you have slipped or tripped in a business in the South Florida area and have been injured as a result, you should contact an experienced South Florida slip & fall attorney like LJ Law Group.
You may have damages such as medical bills for exams and treatments, lost wages, and missed opportunities for overtime due to missing work as a result of your injuries. You and your attorney may even discuss adding a financial component for your pain and suffering. Using a South Florida slip&fall firm gives you the best possible chance of recovering monetary compensation for your damages.
How Do Slip & Fall Injuries Happen?
Property owners have a duty to the public to keep their property in a reasonably safe condition. This means that they must be aware of the property condition at any particular time, and must constantly monitor it for changes to its condition. Common causes of slip, trip, and fall injuries include:
Transient substances like liquids that have been spilled or dropped on tile or otherwise smooth floors.
Dropped food, debris, trash, or refuse from
Uneven grade issues like cracks in the floor
Unsecured rugs or carpeting edges
If the store hangs promotional material from the ceiling tile, a low hanging item may hit you
Do You Have A South Florida Slip & Fall Case?
If your claim for compensation in South Florida stems from an accident when you fell and hit the ground, you will need to prove a few things, including:
You were allowed to be on the property.
There was some factor that precipitated the fall, like a liquid, debris, or defect that had been there for some time. It needs to be there long enough for the staff to have had a chance to clean it and failed.
You were injured as a result of the accident.
Why Choose LJ Law Group?
Filing a personal injury claim can be complex and frustrating, especially when you are simply trying to heal and recover from your injuries. Put your claim in the hands of an experienced attorney with a history of successfully navigating the claims process and getting fair compensation for their clients. Not only will they be your advocate during the stressful settlement negotiation talks, but if they refuse to settle and your case needs to go to litigation, they will be your legal representative. Schedule a free consultation today.
Get your Free Case Evaluation